FREE Family Activities in Banff – Johnston Canyon Walk
ShareThis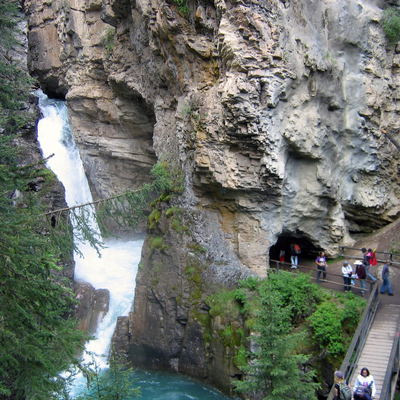 © Copyright 2012 Roy Tennant, FreeLargePhotos.com
Location: 18km from Banff, Highway 1A (Bow Valley Parkway)
Facilities: Café , toilets, gift shop
Drive Time: 20 minutes
Hike Time: 1hr round trip with kids
Just 20 minutes from your Banff hotel, you will find one of the most beautiful family friendly hikes in Banff National Park; Johnston Canyon.

Located on the Highway 1A, not only is the short drive to Johnston Canyon brimming with incredible scenery and amazing Canadian wildlife, but your destination is a must-do for many families on their Banff hotel vacation.
© Parks Canada
The short hike through Johnston Canyon on the smooth boardwalks with handrails, is suitable for all ages and is stroller friendly. Don't forget your camera as the easy walk along the bottom of the canyon provides lots of beautiful photo opportunities.
The trail begins near a conveniently placed ice-cream stand, at the Johnston Canyon restaurant. After your obligatory ice-cream stop, you can make your way along the paved walkway for the 1.1km, through the winding canyon to the lower falls. Here you can take those fun family snaps as you pass through a short cave to get up-close to the waterfall. Kids love the refreshing spray from the falls and you will too!
If you're feeling particularly adventurous, continue another 2.7km to the Upper Falls. This terrain is still listed as 'Easy' but the elevation gain increases as you make your way to view the canyon from above. However, the end result of the Upper Falls is well worth the hike!
Enjoy all the FREE and family friendly activities Banff has to offer on the doorstep of your hotel in Banff.
Douglas Fir Resort & Chalets, Banff's Finest Family Accommodation
Banff hotel, hotel in Banff, banff hotels, hotels in Banff, family activities in banff
Labels: banff hotel, Banff hotels, family activities in banff, hotel in banff, hotels in banff