Moraine Lake Road is OPEN!
ShareThis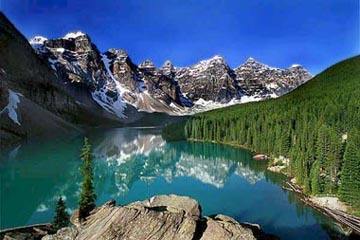 Another sign that the spring thaw is really here and that summer is just around the corner!
The road to one of the most iconic views in Banff National Park is now OPEN for the season!
Also fondly known as the Valley of the 10 Peaks because of the monstrous 10 mountains which reside there, Moraine Lake is a must for many visitors on vacation to their hotel in Banff to capture that oh-so-famous shot.
Parks Canada worked hard last week shovelling, digging and plowing through the remaining snow to have the road open for you weekend at your Banff hotel. And all that hard work paid off!
If you're looking for a fantastic day out from your hotel in Banff, you can access to the Moraine Lake road on you drive up to the Chateau at Lake Louise. You will find a left turn when you're almost at the top of the hill and from there it is a scenic 11km drive to Moraine Lake. Worth every kilometre!
Douglas Fir Resort & Chalets, Banff's Finest Family Accommodation
Banff hotel, hotel in Banff, Banff hotels, hotels in Banff
Labels: Banff accommodation, banff condo, banff hotel, Banff hotels, family activies in banff, hotel in banff, hotels in banff